Mittwoch was written for our Acid Police Noise ensemble 9/11 concert "Stockhausen serves terrorism: Ten years of Sodom and Gomorrah" for performance in 'Het Nutshuis' on the 9th of September 2011 and the release of the first Acid Police Noise ensemble album: "Extraordinary Renditions" but for the album, remixed as three new variations called pop-dust.
The material for Mittwoch and its 'pop dust' variations comes from the repertoire of songs used in the "extended interrogation techniques" detainees were subjected to in the military prison at Guantanamo bay. Selections from these songs were used within the concert and in several different pieces within our album.
The rough noise sounds in the pieces come from a concept I enacted in the Stockhausen studio (Electronic studio, Den Haag conservatory, NL).
I carefully recorded each pop song on bad analogue tape. I carefully removed the magnetic strip on the tape and ground with my fingers until it become a black dust.
For each pop song I carefully repeated the action and organised them in separate 'ash boxes'. After, I carefully glued the 'ash' of each box separately back on to the analogue tape, played it back and recorded it digitally. Knowing each ash, glued back on the tape, would sound the same; I kept repeating the action for each box and had in the end a rough noise recording for each pop song.
Mittwoch became an 8-channel tape piece for the 9/11 concert but has now been combined with the video I made in the Stockhausen studio and is now in stereo.
The sound you can hear in the beginning of the video belongs to the video image in the end. The final audio result, the dust.
You can listen to the Acid Police Noise Ensemble album here:
http://zeromoon.com/releases/acid-police-noise-ensemble-extraordinary-renditions-zero127
and you can see my video here: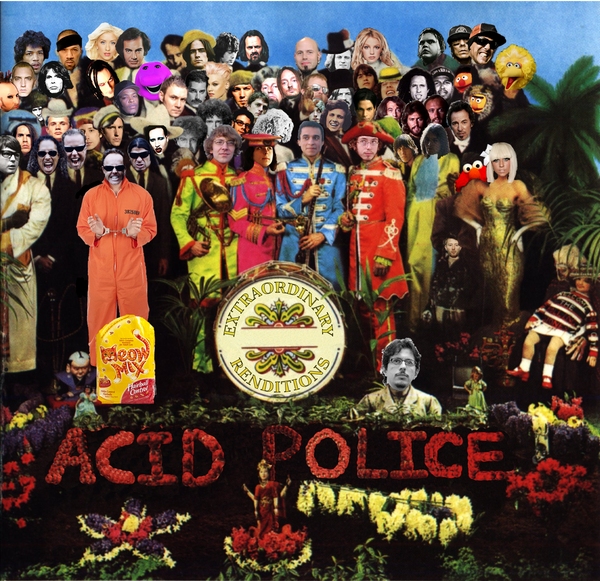 Front cover of Acid Police Noise Ensemble album "Extraordinary Renditions"(2011)
With from left to right: Robert Blatt, Maya Verlaak, David Pocknee, Leo Svirsky
and the sculpture underneath: Renato Ferreira.